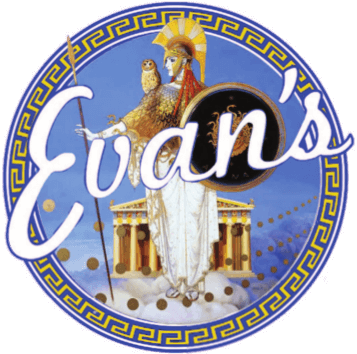 Pizza Restaurant Bar
A great place to have a pizza or steak, grab a beer, and relax with friends.
About Us
Evan's Pizza is a nice mix of Italian and Greek food serving over 18 specialty pizzas and offering the largest beer selection in University City!
We offer an amazing selection of specialty pizzas including the Mediterranean Pizza, Mykonos, Santorini, along with special veggie styles in the Thessalonika and Primavera. If you are not looking for your everyday pizzeria, Evan's is the place to go!
Order Tracker
Enter your phone number to track your order
Menu
Pizza

Calzones & Strombolis

Hoagies & Steaks

Wraps & Gyros

Rustics & Clubs

Hot & Parm - Sandwiches

Sandwiches-burgers-quesadillas

Chicken & Seafood- Platters

Platters & Pastas

Salads

Appetizers- Fries

Wings

Kids Menu - Chips

Drinks

Daily Specials - Desserts

Catering
Feedback
"
I love Evans food and service. Best food in University City, West Philly and Southwest Philly.

Nicole W.

for

Evan's Pizza - Philadelphia, 4311 Locust St
Thanks to the initial contact people that take our calls! Thanks to the delivery service and the Cooks! Bravo on your meals!

Hungry

for

Evan's Pizza - Philadelphia, 4311 Locust St
Your food, service is outstanding.

Bert C.

for

Evan's Pizza - Philadelphia, 4311 Locust St
Previous
Next
Tell us what you think!
Register
Create an account with us today to order faster, safer and keep track of your past orders.
Special offers and promotions are regularly available to our registered users.